MEET THE AGENTS: Allison Hellegers and Allison Remcheck (for writers + illustrators)
December 2, 2020 @ 5:00 pm

-

6:00 pm

EST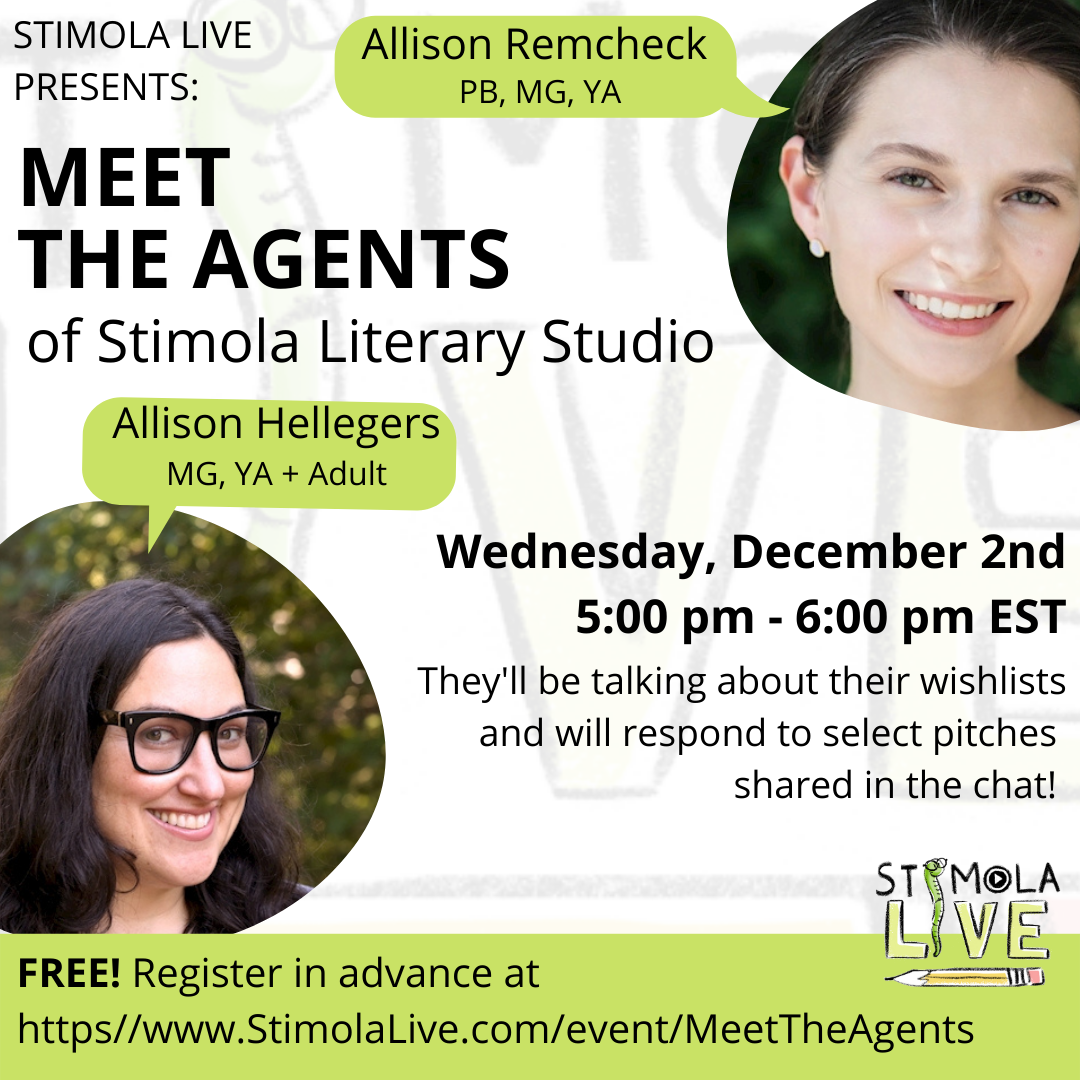 Join Stimola Literary Studio agents, Allison Hellegers and Allison Remcheck, as they talk about their work as agents and their current wish lists. Registrants are invited to share query pitches with Allison and Allison in the chat box. Think elevator pitch! They will respond to as many pitches as possible as time allows. We're looking forward to it!
As both Foreign Rights Director and Literary Agent, Allison's tastes lean towards books that have emotional hooks mixed with strong plot, film/TV and/or translation appeal, and take the reader on a journey.
Allison (who also goes by that name Alli at the Studio) received her degrees in Journalism and Women's Studies from the University of Wisconsin-Madison. After spending a semester abroad at the Sorbonne in Paris, she was thrilled when her jobs as Literary Scout and Foreign Rights Manager would take her back to France (among other countries). Alli also volunteered with the non-profit Girls Write Now, and empowering teen girls became one of the biggest drivers in her career. After working with the YA packager, Alloy Entertainment, Alli spent the last 10 years as Foreign Rights Director with Rights People. She also co-agents books for all ages on behalf of foreign publishers and agencies (international, British, and Australian) to represent projects into North America. Alli loves hiking in nature, listening to music on road trips, and spending time with her friends, husband, young son (a new reader!), and her rescue mutt in Brooklyn.
Allison Remcheck has known what she wanted to be when she grew up—ever since the age of eight when she read in the back of a Baby-Sitters' Club book that the author, Ann M. Martin, was an editor before she became a writer. She had no idea what the word "editor" meant—but she knew it had to be a person who read a lot, and she knew she wanted to work in publishing. She's so lucky to say that she has only ever worked with books—a journey that has taken her from a library, to a bookstore, to a publishing house, and finally to the Studio—and books, particularly those for children, have been her lifelong passion. She believes there is simply nothing better in the world than putting the perfect book in a child's hand. But there is something extraordinary in nurturing a book from the start, and seeing it find its place in the world. To Allison, being an agent is a bit like a treasure hunt to find the books that speak to her most easily. She finds herself drawn to voices that speak for themselves, stories that only the author can tell, and books that reflect the lives of every child—especially the ones told least often.